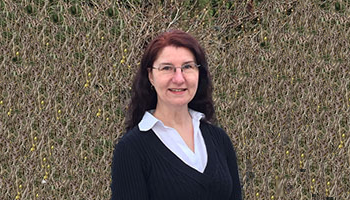 Janet Andrews of IAM Local 764 has been elected as the Secretary-Treasurer of the New Westminster and District Labour Council (NWDLC), effective February 22, 2017. This marks the first time an IAM member has been elected to a full-time position with the council.
Andrews joined the IAM in 1998 as a Customer Service Agent with United Airlines at Vancouver International Airport. She maintained her membership and union activism when United outsourced its Canadian operations in 2014.
In 2015 she became the IAM representative on the NWDLC Executive Board. Andrews is chairperson of the IAM Local 764 Women's Committee, the IAM representative on the British Columbia Federation of Labour Women's Committee and chairperson of the local's political action committee.
"Janet Andrews is truly a trade unionist, with a proven record of being an effective leader and tireless advocate for the members of the Machinists Union," said IAM District 250 Directing Business Representative Walter Gerlach. "Janet's participation and history in the area of political action make her a natural choice to be the next secretary treasurer of the NWDLC."
"I am honoured to serve as the next Secretary-Treasurer of the New Westminster and District Labour Council. Our Council has a strong tradition of leadership, political activism and advocacy on behalf of working men and women," said Andrews. "Our local government program is one of the strongest in Canada, with over 70 percent of the candidates we endorsed elected in 2014. New Westminster was the first city in British Columbia to make a commitment to the Living Wage, and we have worked with progressive politicians to make many other significant gains for working families in our region."
The NWDLC was chartered by the Canadian Labour Congress and is comprised of more than 100 local unions representing over 56,000 members in 14 British Columbia municipalities in the greater Vancouver area.
The post Canadian IAM Member Makes History appeared first on IAMAW.