A labor rally has been planned for Monday, June 25th in support of a group of IAM Local 701 auto mechanics on strike at a Chicago-area car dealership for more than 10 months.
The striking members are back on the strike line in their fight to obtain a first contract at Napleton Cadillac of Libertyville in Libertyville, IL. This after the line had been pulled down for nearly eight weeks after the union gave an unconditional offer to return to work after receiving a favorable decision from the National Labor Relations Board (NLRB).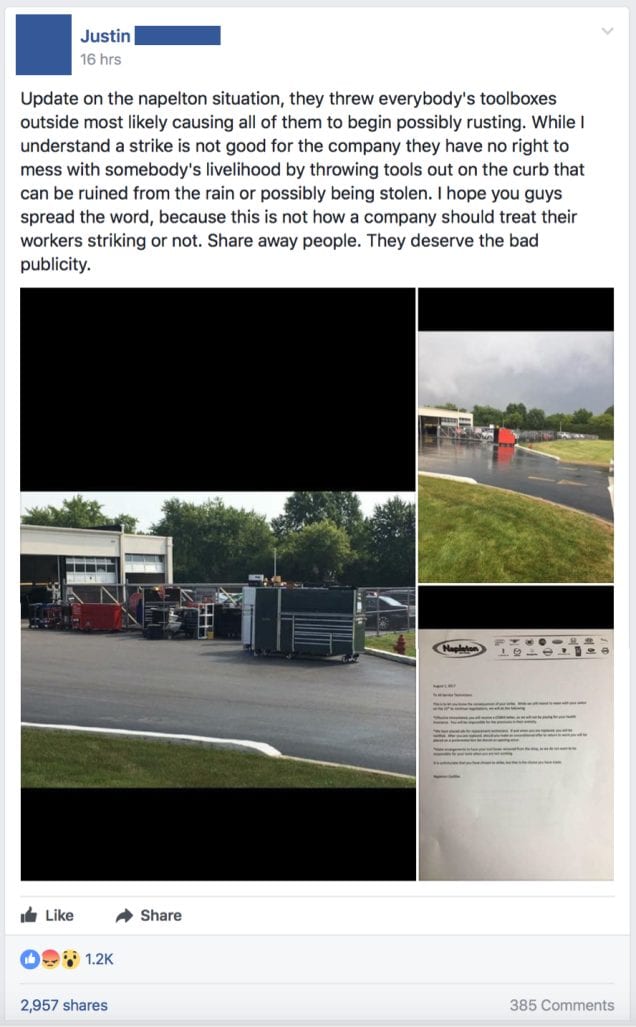 IAM Local 701 filed multiple unfair labor charges against the dealership in 2017. Charges included management's attempts to intimidate the workers by sending threatening letters, rolling out mechanics' toolboxes and leaving one worker's $100,000 worth of tools out in the rain damaging his electronic tools and toolbox. Videos and photos of the incident went viral on social media.
An Administrative Law Judge recently found merit on the charges indicating there were several "unfair labor practice charges committed."  The union has filed additional charges for reneging on an already agreed upon agreement as well as the employer's refusal to bring our members back to work after giving our unconditional offer to return to work. 
"The union attempted, without further litigation, to get our members back to work," said Local 701 Directing Business Representative Sam Cicinelli. "Unfortunately the owner at the advice of his legal counsel refuses to do the right thing. They refuse to bring back our highly-qualified and certified members, some with more than 20 years of experience and past service at the location. They are advertising to hire more technicians while our members walk the strike line."
"Local 701 and my staff have been working tirelessly in the fight to get our brothers at Napleton Cadillac back to work – and we won't stop," said IAM Midwest Territory General Vice President Philip J. Gruber. "Our brothers have been holding the line for more than ten months now – even through a Chicago winter. That's true solidarity. Let's help them take this fight across the finish line. Let's show the Napletons what it means to mess with the Fighting Machinists."
Read GVP Gruber Visits Local 701 Auto Mechanics Still on Strike in Chicago
The labor rally will be held on Monday, June 25th from 9 a.m. to 2 p.m. at the Napleton Cadillac of Libertyville car dealership in Libertyville, IL.
"Mark your calendars and come out to support our brothers," said Cicinelli. "Let's show the Napletons that when you mess with one you mess with us all.  Remember their fight is your fight and your fight is our fight!"
The post IAM Local 701 Strike Line Back Up at Napleton Libertyville Cadillac, Labor Rally June 25 appeared first on IAMAW.