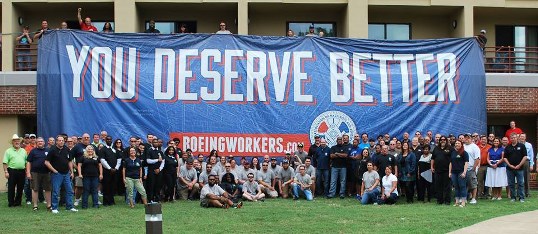 Even with Boeing's recent anti-union mailing to employees, the IAM is preparing to call a vote to organize the approximately 3,000 eligible workers at the company's North Charleston, SC plant.
"We're close," IAM Organizer Mike Evans told the Seattle Times. "This has been a long campaign. I feel we're going to have something relatively soon. The company knows it."
In the article, Evans explained how Boeing is feeling the pressure of the IAM's efforts, and that the mailer is its latest tactic to mislead their workers.
A brochure was sent to workers' homes alleging that a United Auto Worker contract caused the closure of a Winnsboro, SC Mack Truck manufacturing plant at the end of 2002. Evans described the argument as weak, since Mack Trucks closed long after the union contract had been negotiated and during a downturn in the trucking business.
Support for IAM representation, like workers have at Boeing facilities in Washington State, is growing at the company's North Charleston's 787 production plant.
A recent PBS NewsHour Weekend video story highlights the IAM's effort to bring respect on the job to the Boeing workers. The story points out that an IAM represented Assembler Mechanic in Everett, WA makes $38.61 per hour after six years on the job. In South Carolina, non-union Boeing workers building the same plane make only $22.62 per hour.
The post Machinists' South Carolina Organizing Push Heats Up appeared first on IAMAW.