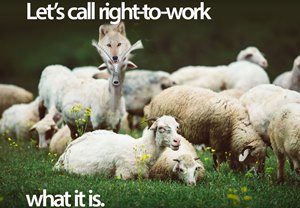 The attack on Missouri workers continues as lawmakers in the Missouri House gave initial approval to a "right-to-work" proposal, a law that allows workers a "free ride" and to opt out of paying union dues while still receiving the benefits of a union contract.
Contact your Missouri House State legislator and tell them "right-to-work" (for less) is wrong for your state.
The House passed H.B. 91 by a 101-58 vote. The bill still needs final approval from the House before it heads to the Senate for further debate. Newly-elected Governor Greitens has already promised to sign the bill if it reaches his desk.
Missouri legislators don't plan on stopping at just "right-to-work," as other anti-worker legislation will be voted on in the upcoming weeks, including ending prevailing wage laws and project labor agreement.
Contact your Missouri House and Senate legislators and tell them to end their attacks on working families.
The post Missouri Lawmakers Advance Anti-Worker RTW appeared first on IAMAW.