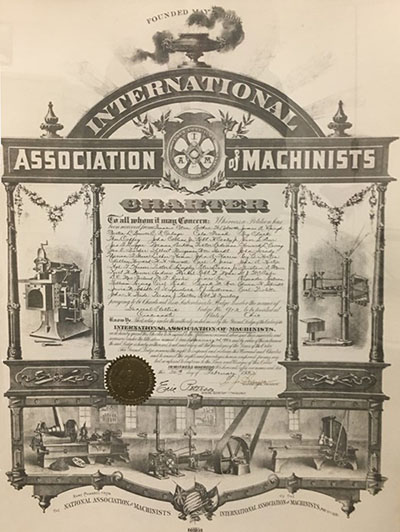 Evandale, OH IAM Local 912 recently marked its 65th anniversary as an IAM Local Lodge. The members of Local 912, chartered on January 24, 1952, are employed at the historic General Electric Aviation plant located just outside of Cincinnati.
The historic plant formally opened in 1949 as a necessity to keep up with military demand. It had been the site where Wright Aeronautical piston engines were made during World War II. It is now GE Aviation's world headquarters.
What did Local 912 do to mark this historic milestone? They mobilized to fight for working families, of course. Members and retirees joined other union members from the region to pack a meeting at nearby West Chester Township to oppose a local "right-to-work" measure. They were successful in their efforts, as the township trustees withdrew the measure within a few minutes of opening of the meeting.
"It was truly ironic, yet extremely fitting for the 'Fighting Machinists,'" said IAM Local 912 President Eric Kratzer. "I had literally just glanced at the charter, noticed the date, and thinking of how those that came before us stood together to fight for a better way of life. Then six decades later, on this very day, we are all standing together to fight for working families again."
"I was very proud of not just our members, but to be in the company of the retirees who had taken on countless fights prior, to lay the foundation for the IAM contract we now enjoy," added Kratzer.
"It is very telling that on this momentous occasion union members are faced, yet again with fighting to protect wages, benefits and collective bargaining rights," said IAM Eastern Territory General Vice President Jimmy Conigliaro, Sr. "Our members have withstood political and economic hardships, repeated attacks on justice in the workplace and even corporate agendas to silence workers voices. Yet they display their resilience and solidarity to protect all working families in the communities where they live."
The post Ohio Local Marks 65 Years with Style appeared first on IAMAW.