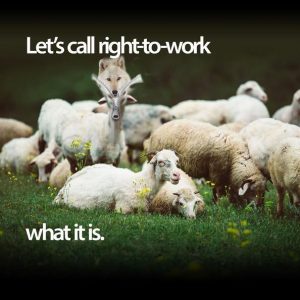 The ink was barely dry on Missouri's new "right-to-work" law when working people struck back by filing a referendum petition to freeze the law and put it on the ballot in 2018. The law forces unions to give a "free ride" by allowing people to opt out of paying union dues while still receiving representation and all the benefits of a union contract.
Sign up for updates on how to support Missouri workers.
The petition was filed a few short hours after Missouri Gov. Eric Greitens signed the bill into law, making Missouri the country's 28th "right-to-work" state.
Organizers for the referendum petition have until August 28, – the day the law is scheduled to go in effect – to gather roughly 90,000 signatures, 5 percent of voters from two-thirds of Missouri's congressional districts.
As more states become "right-to-work," there is a push from anti-union politicians in Washington, DC to propose a national form of the legislation.
Sign up to for updates on how to support Missouri workers.
The post Right-to-Work Passes in Missouri, But Working People Look to Counterpunch appeared first on IAMAW.