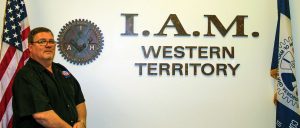 James "Jimbo" Watson, a longtime IAM leader in Arizona, has been appointed to serve as a Special Representative in the Western Territory. The appointment was effective November 1.
Watson had served as Directing Business Representative of Tucson, AZ Local 933 and Assistant Directing Business Representative of District 947.
He initiated into Local 933 in 1986 when he was hired by the former Hughes Aircraft as a Product Test Specialist. He served as Shop Steward, Alternate Chief Steward, Sentinel, Trustee, Negotiating Committee member and Recording Secretary for the Negotiating Committee. As the Chief Spokesman for the IAM's contract talks, he successfully negotiated the 2009 and 2012 Raytheon Missile Systems collective bargaining agreements.
Watson served as the Commissioner for the Pima County (AZ) Merit System and Law Enforcement Council, City of Tucson Planning and Zoning Commission, member of the Workforce Investment Board and on the Executive Board of the Community Food Bank. Watson was the former Chair of the Pima County Action Agency. From 1998 to 2007, he held the position of Community Service Director for the Arizona AFL-CIO, leading its efforts on behalf of the United Way of Greater Tucson and assisting the members of IAM Local 933 during the 72-day strike in 2006 against Raytheon Missile Systems.
"Brother Watson's wealth of knowledge and experience will be a tremendous addition to our Western Territory team," said Western Territory General Vice President Gary Allen. "Our members and their families will benefit greatly from Jimbo's heart, skill and passion for the labor movement."
Watson is also a proud veteran of the U.S. Air Force and holds an associate's degree in computer robotics.
The post Watson Tapped as Western Territory Special Representative appeared first on IAMAW.