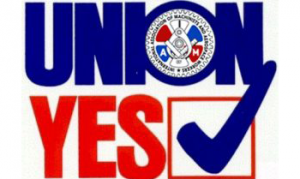 Concierge employees, Porters and Doormen of IAM Local 447 working at the Jersey City, NJ Trump Plaza unanimously ratified their first contract recently with Planned Companies, bringing immediate wage increases of $2-3.00 an hour.
In addition to the immediate raises, the members received many of the standard provisions of a union contract including vacations, holidays and premium pay.
"Special thanks to Director of Organizing Vinny Addeo and Local 447 Business Manager Robert Motisi for their hard work with this group," said IAM District 15 Directing Business Representative Juan Negron. "I'm proud and thankful for the District 15 team for their hard work and support in closing out 2016 with another victory for working families."
"Congratulations, and many thanks to District 15 DBR Juan Negron, and the team at District 15," said IAM Eastern Territory General Vice President Jimmy Conigliaro, Sr. "This is just another example of working outside the norm to continue organizing workers in need of what the IAM can offer them to improve their lives. I'd like to welcome them all to the IAM family."
The hotel workers joined the IAM in December when Planned Companies voluntarily recognized the IAM as the employee's representative following the signing of authorization cards.
The post NJ Members at Trump Plaza get Raises in First Contract appeared first on IAMAW.